Milwaukee Public Schools' Ronald Reagan College Preparatory High School and Rufus King International School are among the best in the country when it comes to challenging their students, according to a new ranking from the Washington Post.
The Post rankings are based upon the number of college-level tests given to students.
Reagan was named third best in Wisconsin. King was ranked fifth. Nine of the top 10 schools in Wisconsin were in the Milwaukee area. (To see the list, click here:http://apps.washingtonpost.com/local/highschoolchallenge/schools/2012/list/wisconsin-schools/)
King and Reagan were recently named among the 200 best high schools in the country by U.S. News and World Report. They were ranked first and second in the state and MPS' Milwaukee School of Languages was ranked seventh.

Milwaukee Recreation will host the 29th annual Seniorfest on Wednesday, June 13 from 9am-5pm at Milwaukee's American Serb Memorial Hall, 5101 W. Oklahoma Ave.
The extravaganza, created for active older adults, will feature bingo, dancing, a variety of exhibits, recreational activities, musical entertainment, door prizes and more. Exhibits and activity stations will be open from 9am-2pm.
"Seniorfest is an event that gives active older adults an opportunity to engage in a variety of activities," says MPS Assistant Recreation Supervisor Willie Mitchell. We also use this special occasion to recognize our 'Experience Life Award' honoree."
Throughout the day, Seniorfest 2012 will feature performances by The Bob Kuether Band, Ed Franks, Sweet Bobby and the Band, Danny Crivello, and Jazzy Jewels.
The 2012 Golden Idol Winner will also perform. Tickets are $4 in advance; $5 at the door. Free parking is available at St. Gregory The Great, located on the corner of South 60th St. and W. Oklahoma Ave.
A trolley will shuttle fest-goers to the main entrance from the parking area. Individuals who use wheelchairs may park at American Serb Memorial Hall.
Call (414) 647-6041 for ticket information.
Minority Unemployment Town Hall Meetings—"What's Going On?"
Wisconsin State Representative Coggs has announced there will be two town hall meetings on Thursday, May 17, 2012 at the Clinton Rose Senior Center, 3045 N. Martin Luther King, Jr. Drive, Milwaukee, WI 53212, 12PM – 2PM; and Tuesday, May 22, 2012 at the Department of Natural Resources, 2300 N. Martin Luther King, Jr. Drive, Milwaukee, WI 53212, 5:30PM – 7:30PM.
The minority public will be able to speak about their personal struggles with unemployment in the City of Milwaukee. State and City elected officials have been invited to be a part of the listening panel.
"The time is now for public officials and employers to create employment solutions. This is a call to action to make real changes that will address the unemployed needs of the minority community in Milwaukee", Rep. Coggs said.
Rep. Coggs is the co-chair of the Governor's Taskforce on Minority Unemployment which is bi-partisan group of elected officials and employers that will develop strategies and actions steps to address minority unemployment. A recent University of Wisconsin-Milwaukee study revealed that 44.7% of black males between the ages 16-64 are unemployed.
Rep. Coggs added: "Solutions cannot be created without listening to the people that are affected by unemployment the most. Those persons experiencing unemployment can shed light on the complexity of finding viable employment. We would like to share the information gathered from the town hall meetings with employers and get their input on what they believe is hindering the minority community from gaining employment." The public will be allowed two minutes to voice their opinions and concerns.
If you are unable to attend the town hall meeting please send your comments to Rep.Coggs@legis.wisconsin.gov.
THE STATE OF WISCONSIN, THE FEDERAL TRADE COMMISSION, FORTY-THREE OTHER STATES AND THE DISTRICT OF COLUMBIA REACH SETTLEMENT WITH SKECHERS OVER CHARGES OF DECEPTIVE ADVERTISING OF ATHLETIC SHOES
 Settlement allocates up to $40 million for consumer refunds to those who purchased Shape-Ups, Tone-Ups and the Skechers Resistance Runner athletic shoes.
Attorney General J.B. Van Hollen announced today that Wisconsin has joined 43 other states, the District of Columbia and the Federal Trade Commission in a settlement with Skechers USA, Inc., the makers of Shape-ups, Tone-ups and the Skechers Resistance Runner athletic shoes.  The State of Wisconsin's complaint filed today alleges that Skechers made health-related claims in the marketing, packaging and selling of its line of rocker-bottom shoe products, including Shape-ups, Tone-ups, and the Skechers Resistance Runner, that were not adequately substantiated at the time the claims were made, and that Skechers claimed that these rocker-bottom shoe products promote weight loss, burn more calories, improve circulation, and firm, tone or strengthen thigh, buttock, and back muscles, without having adequate support for its claims.
Under the settlement, up to $40 million is being allocated for refunds to  consumers who purchased the shoes.  Skechers also will pay an additional $5 million to the states.
Attorney General Van Hollen stated, "I am pleased to provide a remedy to the consumers of this state who were taken in by Skechers' claims.  With all of the information in the marketplace, people need to know that they aren't going to be misled by product-related health claims.
Under the settlement, Skechers is prohibited from making the challenged claims unless it has adequate substantiation to do so.  Skechers does not admit any liability or wrongdoing.
Consumers who purchased Shape-Ups, Tone-Ups or the Skechers Resistance Runner athletic shoes should go to www.ftc.gov/skechers for information about how to obtain a partial refund, or call toll free at 1-866-325-4186
Copies of the Summons and Complaint, and the Consent Judgment are available at the following links:
http://www.doj.state.wi.us/news/files/summons-complaint-skechers-20120515.pdf
http://www.doj.state.wi.us/news/files/consent-judgment-skechers-20120516.pdf
Assistant Attorney General Phil Ferris represents the State of Wisconsin in this case.
MILWAUKEE RECREATION PLANS ADAPTIVE ATHLETICS TRACK MEET

Sue Miller Memorial Track & Field Meet set for Thursday, May 17


Milwaukee Recreation and the family of Sue Miller will coordinate the Second Annual Sue Miller Memorial Track & Field Meet for students in the Milwaukee Public Schools' Adaptive Athletics programs. The event will be held at Marquette University's Valley Fields, 1818 W. Canal Street, from 10:00 a.m. to 12:30 p.m. on Thursday, May 17. Media representatives are invited to attend.


"Sue Miller was a beloved MPS nurse for nine years and was passionate about providing nursing services for MPS students with disabilities," says MPS Recreation Coordinator Annie McGinnity. "Sue was instrumental in providing care for athletes with medical needs during MPS Adaptive Athletics events. This gave them the opportunity to compete with their peers despite needing medical services. Sue lost her battle with ovarian cancer in May of 2010 and is missed greatly by her family, colleagues, and all of the students she cared for."


Thursday's event is specifically tailored for MPS athletes between the ages of 6 and 21 who have orthopedic impairments. A total of 192 athletes will compete.

Milwaukee Recreation is a department of Milwaukee Public Schools, established in 1911 to provide the entire community with affordable and enriching recreational activities.

MILWAUKEE RECREATION PLANS WEED-OUT AT HAWTHORN GLEN

Volunteers needed to remove garlic mustard on May 19


Milwaukee Recreation is seeking eco-friendly individuals and/or groups to join this year's Weed-Out at Hawthorn Glen, 1130 N. 60th St., on Saturday, May 19 from 9:00 a.m. to Noon. Volunteers will be asked to remove garlic mustard, an invasive plant species, from the 23-acre nature center.


Volunteers should wear gloves, long pants, and shirts with long sleeves. They should also bring bottled water. On-site training will be provided. Everyone who volunteers for at least one half hour will be given one free admission coupon for a local attraction (the Milwaukee County Zoo or Milwaukee County Parks Swimming Pool/Water Slide). For more information, please call (414) 647-6067.


Garlic mustard is a rapidly-spreading woodland weed that is displacing native woodland wildflowers in Wisconsin. It dominates the forest floor and can displace most native species within ten years. This plant is a major threat to the survival of Wisconsin's woodland flora and the wildlife that depend on it. As the native plants disappear, so does the wildlife depending on them.


"Milwaukee Recreation is committed to preserving Hawthorn Glen for generations to come, so we need to make sure that garlic mustard stays out," says MPS Assistant Recreation Supervisor Kevin Reed. "It's critical to remove the garlic mustard plant before it seeds because each plant can produce several hundred seeds, and those seeds can remain viable for five years. We've already removed three dumpsters full of bagged garlic mustard this spring, but there's more work to do. We're depending on local media and volunteers to help us spread the word and stop the weeds."


As the Outdoor Education Center for Milwaukee Public Schools, Hawthorn Glen is visited by more than 12,000 students each year. Milwaukee Recreation's naturalists guide students through hands-on learning experiences by conducting nature hikes and educational programs that are tied directly to classroom curricula (and matched with state standards). The public is always welcome to discover and enjoy Hawthorn Glen's Little Nature Museum, network of nature trails, demonstration prairie, picnic areas, playground, and soccer field.

Milwaukee Recreation is a department of Milwaukee Public Schools, established in 1911 to provide the entire community with affordable and enriching recreational activities.

Melina Gingras is opening Midwest Yarn June 5 in the former eco • batik store, 3385 S. Kinnickinnic Ave.
She will be selling yarn and arts/crafts on consignment. Gingras will also be offering knitting classes and knitting gatherings.
More info will be published about this new business in the June Compass.
Join the Milwaukee County Park System and The Park People of Milwaukee on Saturday, June 2 to celebrate the 105th Anniversary of Milwaukee County Parks.  A fun-packed day of full of free special events and programs to get families fit, active and healthy is open to the public on Milwaukee's lakefront at McKinley Park (1750 N Lincoln Memorial Dr.) from 11am-4pm.
The day long event features live music and other performances, a history lesson about our Milwaukee County Parks by local historian John Gurda, youth activities hosted by the YMCA, Klement's Racing Sausages, Door County Sled Dogs, Bango the Buck, an improv comedy show, disc golf demonstrations, a bounce house and more!  Milwaukee's own, KT and the Universal Love Band will be wrapping up the day with a kid friendly concert.  Food and beverages will able available onsite and the public is encouraged to pack a lunch and picnic in the park. Event sponsors include Wheel & Sprocket and MillerCoors.  Visit http://parkpeoplemke.org/ for more details.
Schedule of Events
11:00 am                     New Horizon's Band
11:30 am                     McMenamin Irish Dancers
Noon                           Sue Black, Director of Milwaukee County Parks & Chris Abele, Milwaukee County Executive
12:15 pm                     History of the Parks with local historian John Gurda
12:45 pm                     COA Youth Drum Band
1:15 pm                       Seniorgee Dancers
1:30 pm                       Improv Comedy with Pink Banana
2 :00pm                       KT and the Universal Love Band
Oak Leaf Discovery Tour
During the event, learn about all the family-friendly, free or low-cost activities throughout Milwaukee County Parks including the new Oak Leaf Discovery Tour. The passport tour is a great way for the community to explore the scenic beauty and history of our parks and trails. Participants can hike, bike, run/walk, and even golf your way through 15 attractions highlighted along the Oak Leaf Trail.
Participants collect special stamps when visiting a stop on the tour in a special 105th Anniversary passport program.  Each location is profiled in the passport with a photo and historical information. Collect at least eight stamps between June 2 and September 15 to be eligible to win prizes including new bicycles, golf passes, private-behind the scenes park tours, restaurant gift certificates and more!  Passports cost $3 each or 5 for $10 and proceeds support the Oak Leaf Trail.
The Park People of Milwaukee County, Inc., is an independent, 501(c)(3) nonprofit organization promoting citizen stewardship of Milwaukee County Parks and can be reached at info@parkpeoplemke.org or ParkPeopleMKE.org.
Come swap live plants and experiences this Saturday, May 19th, at the Urban Ecology Center- Riverside Park. Milwaukee Urban Gardens and the Urban Ecology Center are co-sponsoring the plant swap, which will be held outside if weather allows.
Gardeners are encouraged to come and swap all kinds of live plants (no seeds!) and experiences. bring strawberry plants, or daylilies you are separateing, or irises or native plants needing thinning. Or whatever you have. This is a great opportunity to network with other gardeners from across the city.
MUG will also be staffing a table to trade plants from Weber's Greenhouse for MUG Bucks earned by gardeners at our properties.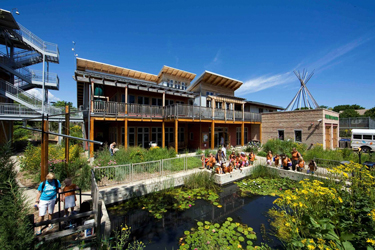 Police were called about 3:50pm this afternoon when a fist fight broke out between four young men in South Shore Park on the southwest corner of Estes Street and Shore Drive.
Two of the men escaped on foot; one was handcuffed and placed in a squad car. The fourth man, who was sitting on the Estes Street near the curb while the police attempted to talk to him, appeared to be in physical, emotional, or psychological duress, or perhaps under the influence of an intoxicant.  His wrists were cuffed behind his back and later he was restrained with ankle cuffs.
Police began to pour glass after glass of water on the man's face when he began to cry, "Agua, agua." Prior to his calls for water, he appeared to be nearly unconscious—his head dropped sideways or he slumped forward.
About 4:15, Milwaukee Fire Department personnel arrived and began to attend the him. By this time he had revived, became agitated, and was begging to have his hands released. He struggled against MFD who were attempting to tend to him. Bell Ambulance arrived, lifted him onto a gurney, and into the ambulance.
Numerous squad cars, a fire truck, a MFD ambulance, and Bell Ambulance were on the scene. A member of the Milwaukee's County Sheriff's Department came to  to investigate but left shortly after he arrived.
A passerby who did not wish to be identified said that the four men were seen earlier near the playground adjacent to the pavilion and that "they seemed drunk."
More information will follow as it becomes available.
Statement of Alderman Terry L. Witkowski 
As the conversation progresses about replacing the Bradley Center, I encourage people to think in terms of really planning a "Center." Think bigger than a basketball arena or sports venue. Why not consider a "Center" with offices, residences, restaurants, entertainment venues, shops and maybe even the much-needed third convention hotel?
If we want to truly get back to competing with cities our size for conventions and tourist dollars — or move forward on building phase three of the Convention Center—we need a third large hotel with meeting space.
It would be a waste of space and opportunity to dedicate a large chunk of the Park East Corridor land only to a basketball arena and parking. We also cannot be limited by the current street pattern in the planning of such a major development. Very simply, give us a plan and a project that Greater Milwaukee can be proud of, one that people can buy into and that will benefit the community (and region) at large.
We are fortunate to have Herb Kohl indicate that he will help in the financing of the basketball venue. He has shown very clearly that he believes in Greater Milwaukee and sets the example in investing in the region's future.
Let's also think big and invest big. Let's believe in Milwaukee!